XL Machines filled a Pressing Need with our own Custom Product Line
A flexible, low priced press module for assembling, stamping punching and forming.
The new Stinger Press Module from XL Machines, Inc. offers a way to bring press operations to your manufacturing process with minimal investment. Designed around a rigid dual C-frame, the Stinger can use a pneumatic (up to 10 tons) or hydraulic cylinder. An extensive list of options allow you to create a system that is precisely suited to your requirements without spending any more than necessary.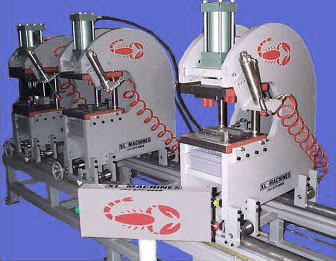 OPTIONS:
Die Set
Frame Stand
Quick Disconnect System
Air Clamp Cylinders
Back Stop Gauge
Light Curtains
Safety Start Console
Special Design Tooling Package
T-Soft Fixture Plates
Modular Rail Mount system